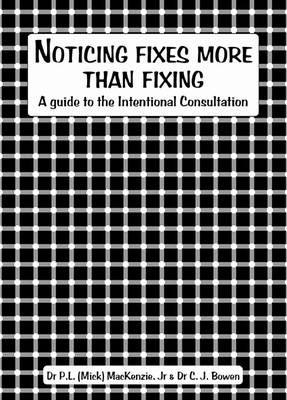 Noticing Fixes more than Fixing (E-book)
A Practitioner E-Handbook - The Intentional Consultation
A paradigm shift for practitioners
Are you fed up of sessions where the patient comes out feeling much better but you come out feeling completely drained?
Would you like to find more effective methods of dealing with 'difficult' patients?
Are you interested in leading a happier, healthier, more fulfilled life?
Dr Mick Mackenzie practised as a well respected chiropractor and kinesiologist for years. Every day he listened to his patients moan about their symptoms and their lives, as both they and he got older and more depressed. Then he discovered a new way of doing things, a new way of consulting, which resulted in happier, healthier patients and a much happier, more vital Dr Mackenzie.
This book explains the basis for this new, more fulfilling way of working and shows how you too can offer your patients and clients much more than a standard consultation.
Available as a handy-sized softback book or pdf E-book.
See how to get more from each and every one of your patient interactions and develop a more effective consulting style.